Issue #4 - February 2019
In this issue, we learn more about how AOP works, its effectiveness, and the strengths and limitations of AOP as a treatment option. David McWalters gives best practice guidance on getting the most out of your disinfection systems and we feature an interview with Global Water Intelligence about De Nora's vision and goals.

This issue coincided with the announcement of the acquisition of MIOX.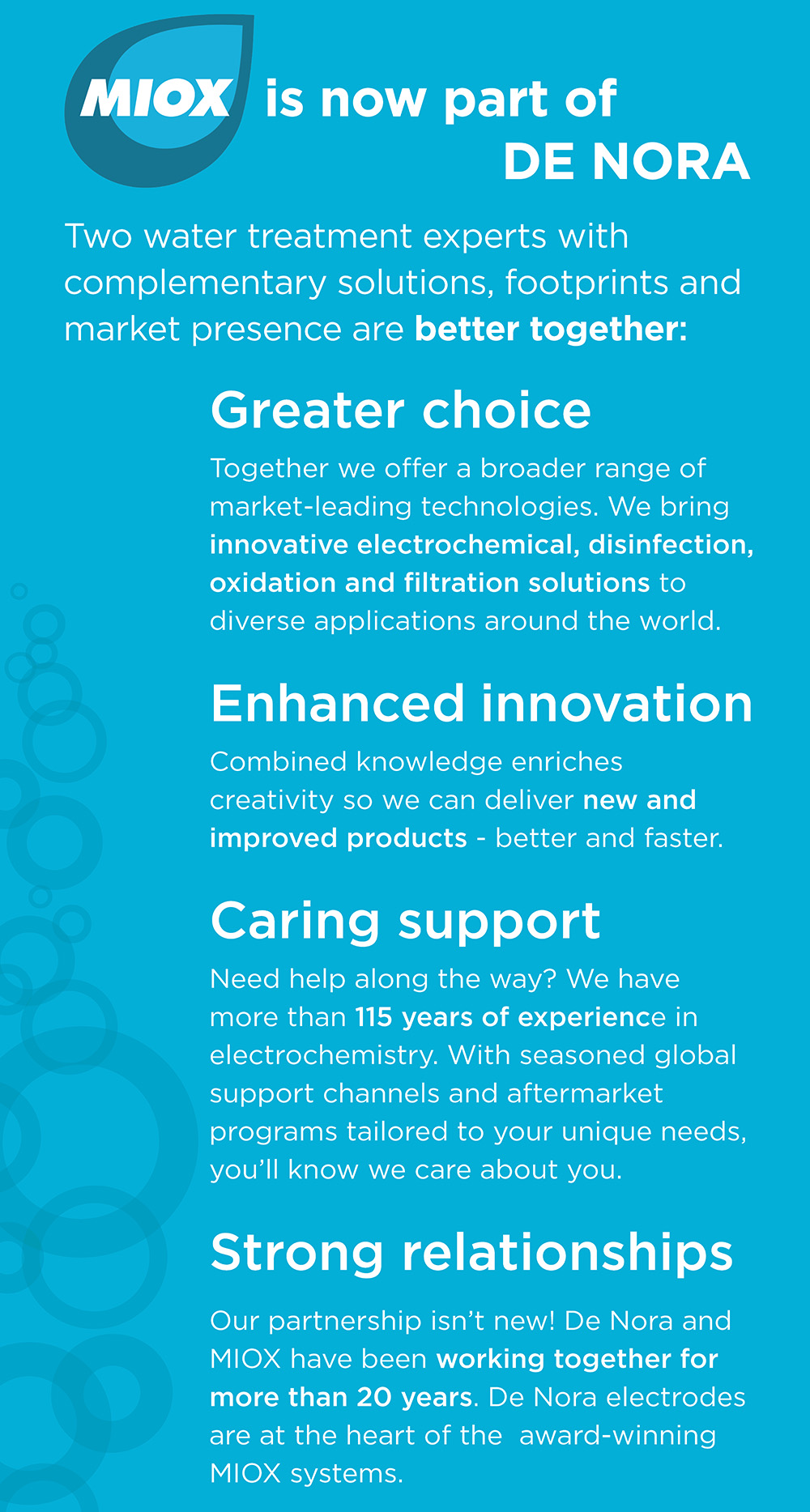 STOP THE PRESS!!! De Nora Acquires MIOX
World leader in electrochemical technologies enhances its water and wastewater treatment portfolio by adding MIOX technologies to its product line. We will be providing more information in future issues of this newsletter, but here's some information about the acquisition, that closed on February 1.
Two water treatment experts with complementary solutions, footprints and market presence are better together to offer:
Greater choice
Together we offer a broader range of market-leading technologies. We bring innovative electrochemical, disinfection, oxidation and filtration solutions to diverse applications around the world.
Enhanced innovation
Combined knowledge enriches creativity so we can deliver new and improved products - better and faster.
Caring support
Need help along the way? We have more than 115 years of experience in electrochemistry. With seasoned global support channels and aftermarket programs tailored to your unique needs, you'll know we care about you.
Strong relationships
Our partnership isn't new! De Nora and MIOX have been working together for more than 20 years. De Nora electrodes are at the heart of the award-winning MIOX systems
NEW VIDEO: DE NORA Capital Controls® Gas Feed Disinfection Solutions