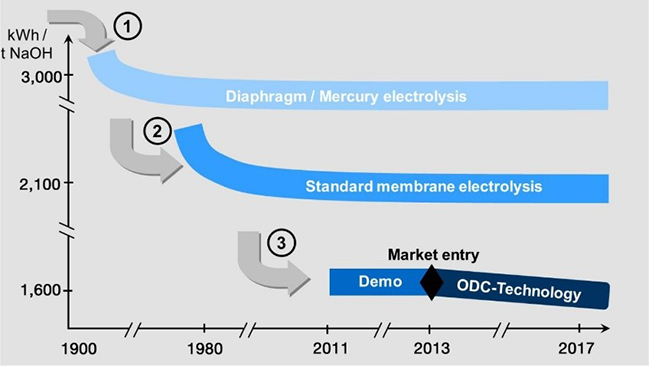 Thyssenkrupp Uhde Chlorine Engineers public presentation
Application of gas diffusion electrode (GDE) in chlorine industry is already commercial. In HCl_ODC (hydrochloric acid - Oxygen depolarized cathode) and NaCl_ODC (sodium chloride - Oxygen depolarized cathode) technologies, the Gas Diffusion Electrode is used to "depolarize" with Oxygen the cathode.
Both technologies are commercialized by Thyssenkrupp Uhde Chlorine Engineers (tkUCE):
Thyssenkrupp uhde chlorine engineers - chlor alkali electrolysis
Thyssenkrupp uhde chlorine engineers - hydrochloric acid recycling
The NaCl_ODC electrolysis process differs from the conventional membrane process on the catholyte side, whereas the anolyte side remains the same. On the cathode side, oxygen is also introduced, which suppresses the formation of hydrogen.
This leads to a significant reduction of the cell voltage. Consequently, Oxygen Depolarized Cathode technology cuts energy consumption by up to 25%. Or vice versa, at constant energy consumption, a corresponding capacity increase is possible. In economic analysis of the technology, the costs of oxygen production in air liquefaction plants and the absence of hydrogen marketing or application opportunities must be considered and may slightly mitigate the total returns due to energy savings.
Full compatibility of electrolysis cells and brine cycle easily allows the new NaCl_ODC and the conventional membrane technologies to be combined in one plant.